Long Island CW Club
The Long Island CW Club is a group of CW learners and enthusiasts, it has a great program, see below an example (in EDT) for the first week of June 2021, I joined once I'd learnt the basics so haven't been to the beginners classes, but I've been to a number of practice groups aimed at different speeds and done in different styles and they've been great.
LICW is a very welcoming club, you are encouraged to just come along have a go and try whatever classes you can make. In the groups I've been a part of beginners and those doing beginners classes have always been welcomed even if they only know a few of the characters and are trying to get practice, anyone can join any group and give it a go. There is a convention where if you just want to 'monitor' the class but not actively participate you put "Audit" in your name.
There is understandably a membership cost, which earlier this year (2021) when I joined was was 1 year $30.00, 2 Years $50.00, 3 Years $70.00 and lifetime membership $90.00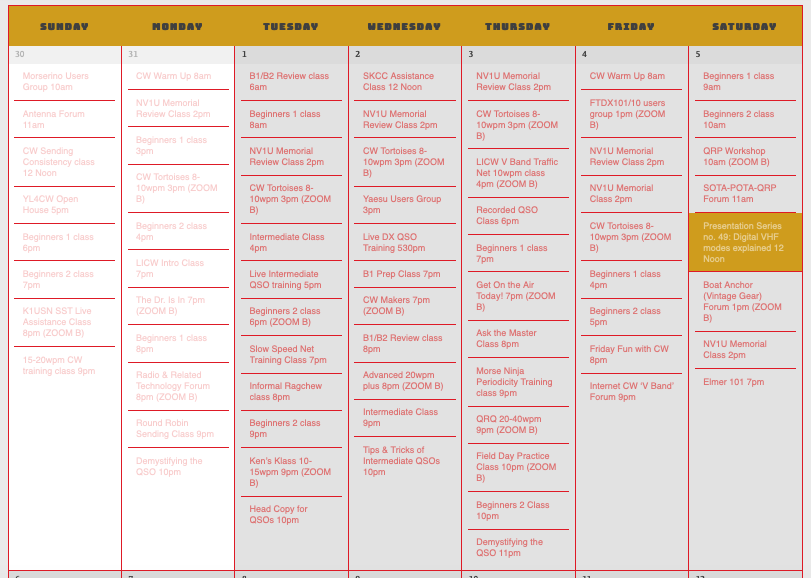 CWOPS
The CWOPS CW Academy is not something I've been a part of but I did investigate it and it is spoken of well by many. The CW Academy course is free and runs three times a year in 8 week semesters Jan-Feb, May-Jun and Sep-Oct, it is a fairly strict and regimented programme, you are given assignments before each class and need to be able to attend the two classes a week.
FISTS
FISTS is a club which (according to their website) "supports the use, preservation and education of Morse code.", they say that "The club is devoted exclusively to CW operators, CW operating and people who are passionate about Morse code."
"We have three straightforward goals:
Further the use of CW (Morse Code)
Engender friendships among members
Encourage newcomers to use CW (Morse Code)"
To this end they organise activities have awards and monitor certain frequencies for both members and non members. The activities aren't contests and aren't competitive, they are more about meeting other members and having fun although they encourage people to upload logs, there is a cost to join but it's minimal and you get a regular magazine and access to the reflector and assistance from members, ability to make skeds etc.